Hair Transplant For Women
Procedure
Female Hair Loss often goes ignored even by mainstream beauty publications, making it difficult for women to get the education and answers they deserve. And yet, hair loss in women is very common with approximately 30% of women experiencing some amount of thinning hair throughout their lifetimes. The psychological impact on women can be more severe as a woman's femininity is frequently linked to her hair.
If you unfortunately are on this boat, there is a solution for you: the hair transplant for women.
Our surgeon will use the latest technologies and procedure for the hair transplant, it the DHI and it is the latest technique used in the Hair Transplantation Industry. In DHI the Surgeon will be using an advanced instrument, shaped just like a pen, which can directly implant the hair follicles.
With the direct hair implantation procedure, people suffering from hair loss can regain natural-looking hair. The special thing here is that, unlike other hair transplants, no major surgery is required. Thus, the exertions for the patient can be reduced to a minimum.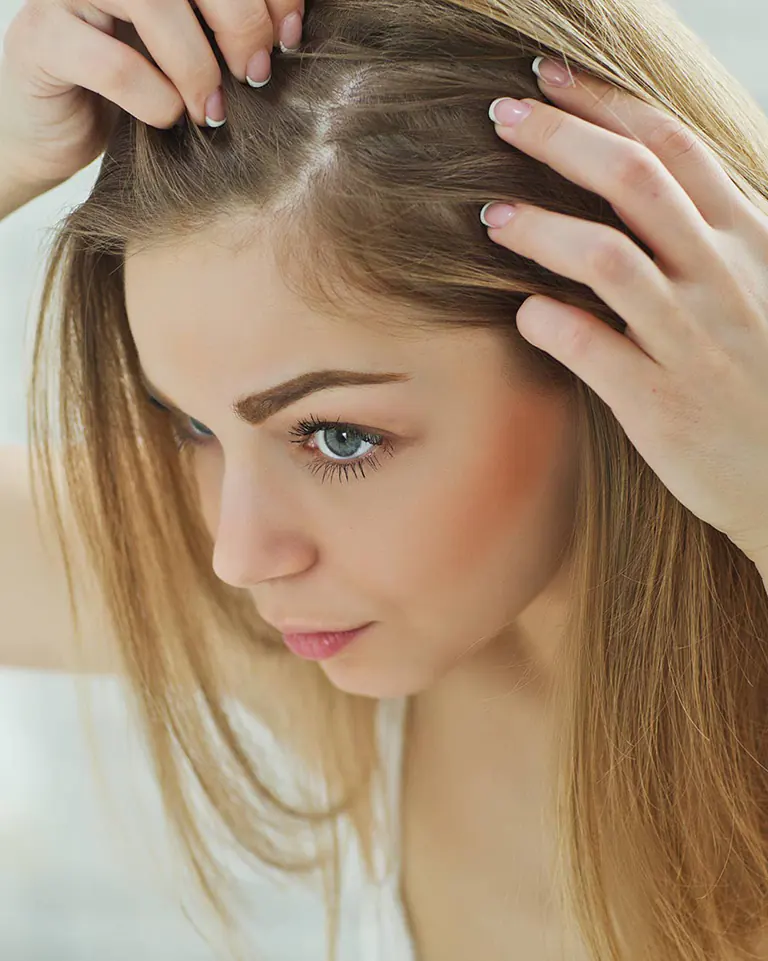 What Causes Female Hair Loss?
Statistics show that only one in three women will experience hair loss. In the majority of cases, women will only lose their hair temporarily. Phew!
But remember, the hair will only grow back once you remedy the root cause.
Common causes of hair loss in women include:
Hormonal changes
Significant life events, including pregnancy and menopause
Suffering from depression, stress, or anxiety
As a side-effect of medication
Excessive use of heat styling tools like curling irons, straighteners, or hair dryers
Wearing tight hairstyles like buns, cornrows, or braids
Suffering from an allergic reaction
Wearing hair extensions for prolonged periods
Genetic conditions like androgenetic alopecia
Applying harsh chemical treatments, such as peroxide or perms
Following a poor diet
Physical trauma to your scalp
You should consult with a professional as soon as possible for a formal diagnosis. This often begins with an online consultation and questionnaire.
Your doctor will closely inspect your scalp and may conduct several tests to gather additional information. Once they are confident they've identified the source, appropriate treatment may begin.
Though rare, women who suffer from extensive hair loss can undergo a hair transplant; this procedure offers a permanent, highly-effective solution.
Who is a good candidate for a hair transplant procedure?
Every patient is unique, and you won't know if you're an ideal candidate for hair transplant treatment until you attend a consultation. That said, women who suffer from the following will often benefit the most from the procedure:
Women whose hair loss is a result of physical trauma (like traction alopecia), or injury
Women whose hair loss is a result of other plastic surgery
Women with symptoms of female pattern baldness
How female hair transplants work
Female hair transplants are performed using the most advanced and successful technical the DHI Hair Transplant. this procedure type is very effective; at Timo Clinic, we have a success rate of more than 97% — giving you confidence in our ability to restore your hair.
In DHI the Surgeon will be using an advanced instrument, shaped just like a pen, which can directly implant the hair follicles.
With the direct hair implantation procedure, Women suffering from hair loss can regain natural-looking hair. The special thing here is that, unlike other hair transplants, no major surgery is required. Thus, the exertions for the patient can be reduced to a minimum.
In addition, the risk of infection can be significantly reduced with this technique and unsightly scars after surgery need not be feared. Moreover, our experience shows the enormous effectiveness of this treatment. It is also known as the "Choi Method".
If you require a reshaping of the hairline, the surgeon may mark out the recipient area with a marker pen. This may help to bring the hairline down to a typical length to the eyebrows (5-7cm).
The doctor will design the hairline with a marker pen when needed whilst discussing this with the patient and making sure that they are happy.
The nurses/technicians will shave the patients donor area in order to be prepped for the procedure. The doctor will then administer the local anesthesia to numb the area and make the patient feel comfortable during the procedure.
The surgeon will then begin extracting one graft at a time from the donor area using the Choi pen and hand it to the technician which will be passing another Choi pen for the next graft.
After the procedure, the hair transplant surgeon will bandage your head and provide you with an antibiotic cream for use in the future date. Our medical team will provide you more information on aftercare and follow you during the recovery.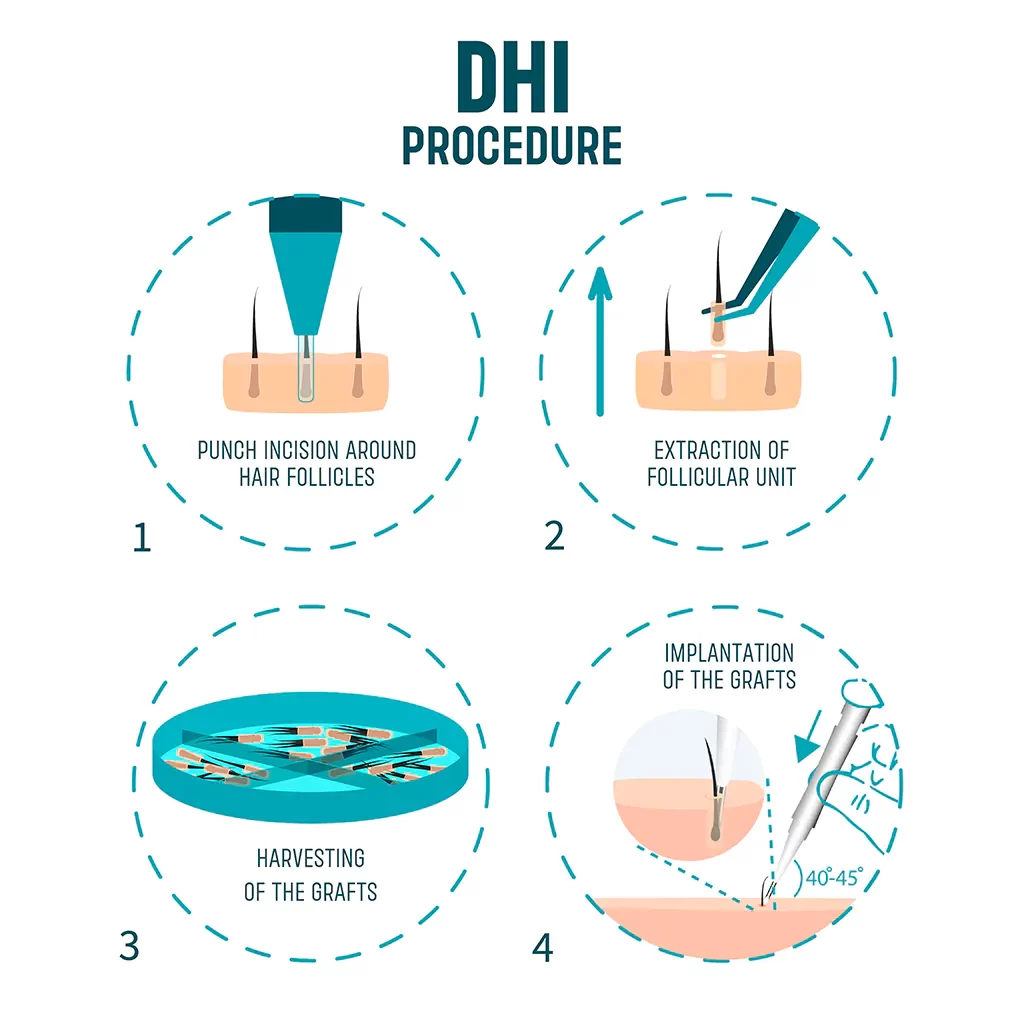 The Four Stages of a
DHI Hair Transplant
Step 01
Punch Incision Around Hair Follicles
DHI hair transplant will be conducted once the surgeon will apply the local anesthesia on the donor area. Hair follicles will be extracted from the donor area using a specialized instrument micromotor with micro punches by the size of 0,6 – 0,7 – 0,8 diameters.
Step 02
Extraction Of Follicular Unit
Hair follicles will be extracted one by one from the donor area.
Step 03
Harvesting Of The Grafts
Placing the extracted follicles in a nourishing environment.
Step 04
Implantation Of The Grafts
The grafts will be load it into the needle of Choi Pen. Those grafts will be implanted by the surgeon on the recipient area at an appropriate angle, depth and direction to give you natural results. The follicles will be implanted carefully one by one for better results.
Should you have a hair transplant?
Feeling self-conscious about your patchy or thinning hair? A female hair transplant could be the ideal treatment for you. If you choose the Wimpole Clinic, you can expect:
Success rates of up to 100%
Confidential, honest advice from our experienced consultants
Fantastic facilities and the highest standards of patient care
Surgery completed in less than one day
New hair growth from 4-6 months after surgery.
Who is a Suitable Candidate?
As per our research and understanding, about 2 to 5% of women suffers with heavy hair loss and they can benefit from hair transplant procedures
Women who suffered from hair loss because of mechanical or traction alopecia (Nonhormonal)
Women who underwent cosmetic or plastic surgery in the past and are worried about the hair loss around their incision sites
Women, who have a distinct pattern of baldness, much like male baldness that includes hairline recession, vertex, thinning on the crown or top of the cap and a donor area that is androgenetic alopecia.
Women who are facing hair loss because of mental trauma, burn marks, scars from accidents and chemical burns.
Women with alopecia marginalis, a condition which is similar to traction alopecia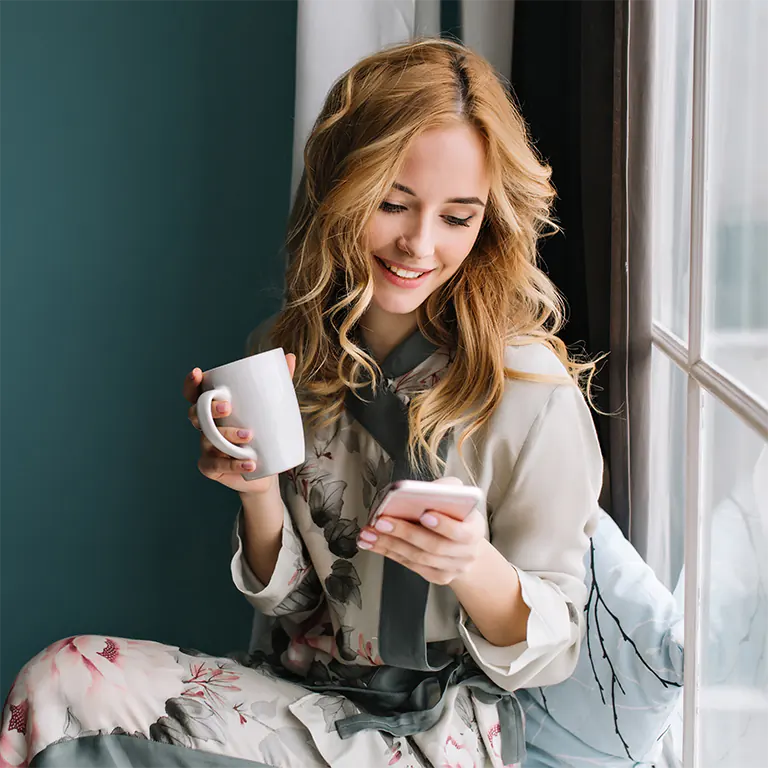 Advantages of Hair transplant for women
There will be a great difference of aesthetic in your hair, as every individual follicle will be concentrated and good looking, in result you will get a more youthful appearance with an increased social and business confidence
Understanding your requirement, we will be offering you the best suitable treatment which will be minimally invasive, relatively painless, completely safe
We use the best possible technologies and techniques which will help you get new growth just like your orginical hair.
The procedures will be carried out in the influence of local anesthesia which makes the treatment safe and painless. Our team or experts will make sure that the treatment will not lead to any serious complications.
After Hair Transplant For Women
✓ After undergoing the hair transplant in women, you can expect a full growth of hair in around 12 months
✓ Please note that in between two to eight weeks after the surgery, the transplanted hair will fall off which is absolutely normal
✓ In the third month after your surgery, your hair may look a bit thinner than the previous ones, which is also normal
✓ Proper medication is suggested, eating prescribed medicines on time is also suggested, washing your head and hair as per our surgeons demonstrated method is also suggested.
✓ The prescribed medicines will slow down the new hair loss and thinning, hence making proper use of medications is recommended.
Frequently Asked Questions
Timo Clinic
Where Surgery Become Art!
We enjoy providing the benefits and improved quality of life that surgeries can give to you. We offer the most advanced form of services, making these procedures available to the widest variety of patients possible. Please contact us today to schedule your consultation.